Happy New Years- Knitting disaster ahead!
Happy New Years everyone! Since it is the new year, I suppose I should be making resolutions. Here are mine:
Spend more time knitting. Really, this is a good resolution for me! When I knit, I think about knitting. Not the worries I might have. Not what I should be making for dinner. Not how to bring about world peace (ha like that could happen!) I am going to spend more time knitting and less time worrying!
2) Don't decide that homeschooling is the best thing for Buddy. It isn't. And he drives me nuts when I am with him so much!
3) Spend more time cultivating the relationships that make me happy. Spend more time with my girlfriends.
4) Learn tubular cast on. figure out entrelac and see if it is something I want to do. Do intarsia. Make a fair isle something. Get better at finishing techniques. Make more for myself! (see previous post!)
5) Live a healthier life. Now that we are in our own home, we are so enjoying healthy cooking again, and going for neighborhood walks. I think walking in your neighborhood every evening for 30 minutes is one of the keys to happiness.

OK, now for the knitting disaster:

6) never let husband wash any of your hand knitted items. see now my poncho I knitted:



YOu can't tell, but it is felted, and much smaller. See how the neck won't even lay flat?

On a happier note: my chair came in yesterday. Baba is seen here, wearing The First Sweater I Ever Knitted. It is 10 years old. I think he looks great in it!


You can't see muc of the detail in the sweater, so I will post a better pic another time. It is a little kimono style sweater, with moss stitch where the edgings and color changes are.

Yesterday, I recieved THIS in the mail: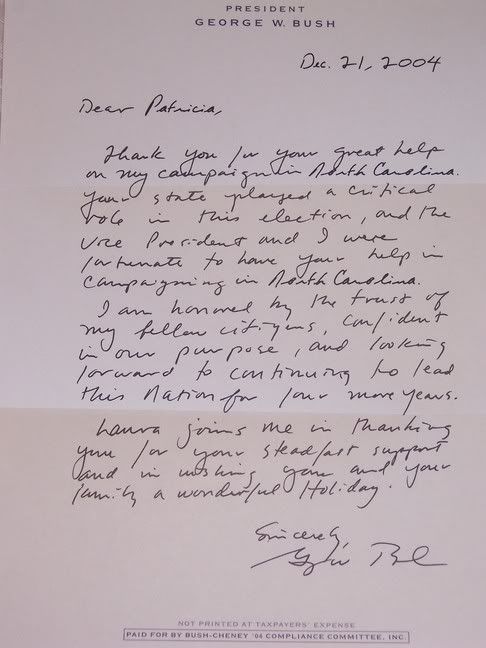 I was so happy! Of course, it isn't hand written, but still! Something to put in my scrapbook!!

Happy New Years everyone, be safe!!Don't drink and drive, please!!!