I can't believe it!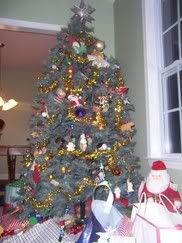 Warning: incredibly long post!!


We moved into our house, 2 days before CHRISTmas!! The move was hard, mostly just my DH and I moving everything, including and INCREDIBLY heavy armoire. Oh, and the giant stainless steel fridge. But, I am just so happy now to be able to use all my things from storage. You don't realize how blessed you are until you go without for a bit. I am just thrilled to have to get up into bed, instead of sleeping on a mattress on the floor! I love having a CLEAN kitchen, with great appliances that work well. I love having my frigidaire double oven, so I can cook things at two different temps. I love using my pots and pans, to make wonderful, healthy meals for my loved ones. I love taking baths in my new big tub, using my wonderful rose petal/ lavender soap my SP3 gave me. I love having a living room, without a TV! My family is starting to understand mow too, why I insisted :No TV in the living room." At CHRISTmas, we all sat around and actually talked, and played games and enjoyed each other's company. It was wonderful.

I didn't quite finish up the quilt for my sister. All put together, but only about 5/27ths tied (but hey, who's counting?) I told her she could have it in a week. She was just so happy she started crying. I was so glad.

CHRISTmas eve, it is our tradition to have a fondue (my husband is 1/2 swiss). We got to have our fondue in our nice living room, with my family. It was just so wonderful, and I think it was the best fondue we have ever made! It is the traditional cheese fondue, with the recipe from my DH's grandpapa. YUM!


We went to a new church for Christmas eve mass, Immaculate Conception. It was different, no kneelers, and I actually LIKE to kneel. But what was different was the priest. I felt like I was at the Broadway show "the Singing Priest" featuring Father Barry! My mom loved it because she said that was what the high masses were like. I enjoyed it, especially after working every weekend and not getting to ever go to church. I didn't enjoy my son asking me over and over what time it was, and when was it going to be over!


Christmas morning was fun. although we were all so tired! The boys enjoyed their gifts. It was great that we all cut back this year, and so it was not overwhelming! Baba's favorite was his wiggles microphone, and Buddy loved his 4 ft tall pink panther. They also played music for us on Buddy's keyboard- Buddy and little mini-me! It was really a lot of fun.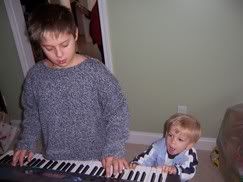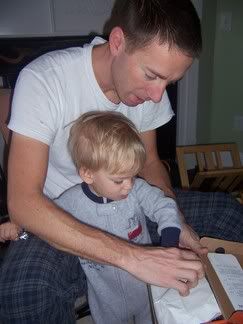 There has been some sadness for me in blogland. Katie, of Knits n Grits, decided to quit blogging. She has a baby and another on the way, and I can't blame her for feeling overwhelmed. But I will surely miss her. Also, Chelsea, my giving-to SP3, has decided to cut back on her blogging. This is also so sad. I enjoyed getting to know her through her blog and I thought she was a really fun person. Both of these girls were on my daily reads.

Chelsea mentioned how sometimes when you write your blog, you get involved in wanting to be popular. I think you know what I mean, the people who get 30 comments to their every post. I know what she means, I always feel like I am boring to people (the average reader is here for 28 seconds.) But, I think I want to kkep up because even if no one else is interested, I am!

OK, Now for KNITTING CONTENT! The handknit gifts went over well. And I am glad they are done! I didn't finish the punk rock backpack, I just haven't been interested. But I did knit my little sis another scarf, on Christmas day, because I didn't know she was allergic to mohair, which is what her first scarf was made of!

me & my thoughtful gift- headache relief- from my sis