A 4-* day!
Yesterday was just such a wonderful day!! Baba was in a great mood and we just played together and had a good time. I tried to do chores while he was up, so that I could knit while he was sleeping. That worked out!! I finally got throught my problems with the FBS, I have finished the first repeat of the lower flower basket. Here is what it looks like: never mind- I screwed up my pic in photobucket and now it is the size of a pencil eraser!! I'll have to take a pic after the next repeat.Can you see those little pink strings? (no, obviously you can't. Just imagine) Ha- I am getting smart! I put in a lifeline after the upper flower basket, and one after the first lower flower basket. I will continue this way until I am done!! Because, knowing me, I will continue to make mistakes, and then confuse myself when I try to fix them.

Next, I am coming along on the outer banks throw. A shot of my progress, and a closer shot so you can see the colors.





I have also been working on something for the re-kal. This used to be the "central park poncho" (remember, DH accidentally felted it).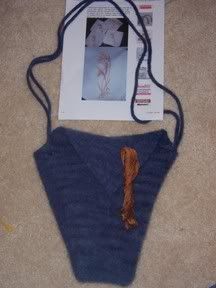 This is the pattern that I am going to embroider onto it: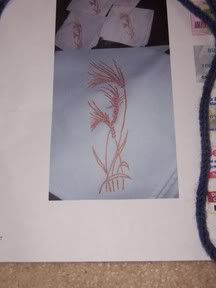 I also got a great sweater from goodwill to frog for the yarn. It is wool, angora, and I think a bit of nylon. I took a pic of it but DH deleted that. So, maybe next post?

About the RAOK ring: I recently found out that my info got deleted from the database. I re-entered it and am finding that I have lots more people visiting my blog! Thank you for your kind comments, and all the lace-knitting tips. Also, yesterday, when I went to pick up my son from the bus stop, I found this wedged between my door!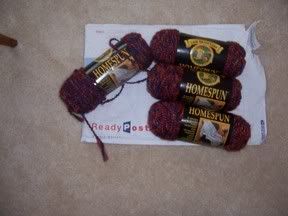 This came to me from Nyxxie, a very generous RAOKer! I want to make a sweater for the baby from it. The sweater is in Debbie Bliss' Junior Knits. I tried to find a pic online, but they don't even have a pic of it on the DB site.

OK, here is a question for anyone who reads this and feels like helping a computer-illiterate! I tried to save buttons for some KALs, and from blogs I read. I saved them into my Kodak, them tried to import them into photobucket so I could generate HTML and put them in my sidebar. But, photobucket says they are in the wrong format. Any ideas for what I should do? Also, could someone tell me how to put pics next to each other in a post, or make my text wrap around? Thank you!!!

Thanks for visiting. Have a great weekend everyone!