I can breathe!
Yes, I am feeling much much better! Thanks to those who sent well wishes my way.

So, while I was feeling under the weather, I did get a few things done. One day last week, I just laid in bed and made some stuff for RAOK. I also finished my afghan! It is the Outer Banks throw, from Knitter's stash. I knit it with colinette mohair, zanziba, skye, and isis. I ran out of the zanziba before I was finished and I subbed some Lion Brand homespun and it blends right in- I think it subbed well.


I don't have pics, but I made a pair of wristwarmers for myself.

I finished my Re-KAL purse. This was made with the accidentally felted poncho. I lined it and embroidered wheat sheaves on the flap.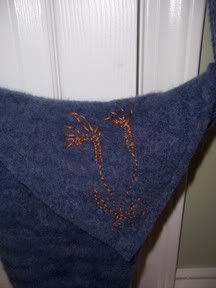 I worked some on my Marilyn for the Marilyn knitalong. I had put this away for a while when I had to frog an entire sleeve. But I am happy with her again.

I made some SLOW progress on the flower basket shawl. As of this AM, I have finished my second repeat on the lower flower basket. I started on the third but had to frog what I did. UGH!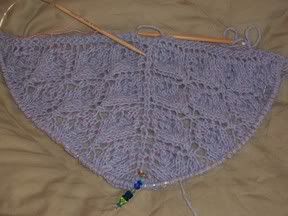 And, last but not least, I finished shearing George last week and made him his own little bunny sweatshirt. He is doing just wonderfully. He is such a sweet rabbit, and he is eating and drinking well. Hopefully the cold snap we have been in will end soon, so he can enjoy some sunshine!

I am bringing him in tonight to brush him, so maybe I will have a couple more pics of him. He really is just so cute!!

In other blog news, Wendy had a great post about the Wannassee conference several days ago. It really made me think a lot. Also, margene posted about why do we knit- for process or progress? Made me feel a lot better about my SLOW progress I am making on my FBS. I enjoy it, even though it is hard....

Also, I got my first spindle! Now, I just need to learn how to use the durn thing....

I got a prettu good start on a hat for my friend Mike.




This is the first sweater I ever made, 10 years ago. It fits little Baba perfectly right now. Part of the reason I feel better is because he was so sweet and slept until 10 this morning! I kept sleeping too, and it really did me some good.