Lots of knitting!!
Hooray! I have had the time to do lots of knitting this past week! Mostly, while laying in bed before going to sleep, but what a great way to end the day!
First of all, I finished the airy scarf for my sister.



Pattern: Last Minute Knitted Gifts
Yarn: 100% alpaca from alpacaamore (Ebay)
needles: 10 bamboos

I really enjoyed knitting this scarf. The alpaca just feels like a cloud and the pattern is VERY easy. My sister will really enjoy this scarf. And I think I might just have to make one for myself!

I also knit her a simple little stocking stitch scarf, just a little one to tie around the neck, in Moda Dea dream yarn. This is a totally manmade fiber but it really feels wonderful! I spared you the pics- how exciting can a stocking stitch scarf be?

Next- I have been collecting my colinette yarns to make the Outer Banks Throw from knitter's stash. Now that we are in the house, I am so excited to knit this one! The yarns- zanziba, skye, mohair, and isis, all just feel so wonderful! This is yet another stocking stitch project, but I have to show you how beautiful it is working up.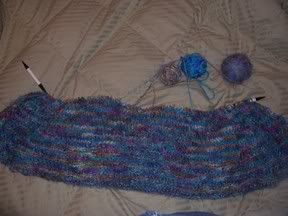 here is some stitch detail: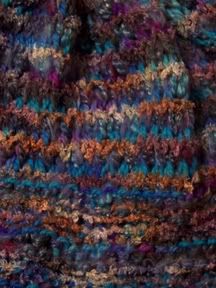 I also joined (gulp) the flower basket redux. I think the shawl is beautiful but I am afraid I am getting in over my head (right now I feel like the only knit-along I have the right to join is a garter stitch scarf along!) Anyways I told Amanda that I would post pics. so what have I done so far?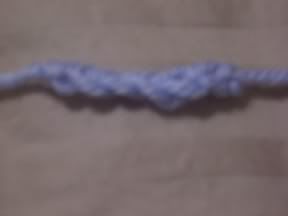 What is it, do you ask? Why, it is a lowly little crochet chain. Yes, that is all I have gotten done. I was going to work on it last night, but started getting a bad migraine at work, so in my drugged state I didn't want to attempt it!

I was also very productive at catching up on my mail! I sent out: The Sniper Cozy (I thought hubby sent it, but it has been sitting in his truck!). I mailed out my package to Chelsea, who was my SP3 (sorry so late Chelsea!). I sent some stitch markers to Kim, of The Woolen Rabbit. Now, I just have a package to send out to Wendy. I promised her that when I moved and found my SECOND copy of Stitch n Bitch, it was hers. So, I got some loverly roving to pack it in!


Kim's stitch markers: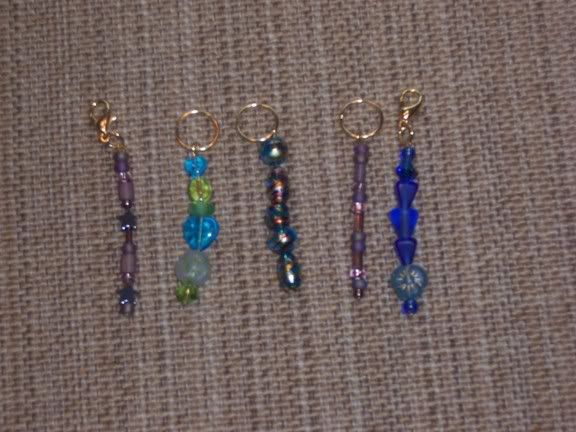 One last thing. I am currently reading Misunderestimated: The President Battles Terrorism, John Kerry, and the Bush Haters.
This book is REALLY interesting. In the second chapter, it outlines what a threat Saddam really was. Now, I knew lots about Saddam, but finding out even more horrible things he did just sickens me. I really believe he is Satan incarnate! Anyways, something I didn't know, which appalled me:
"The Frenchman, whose devotion to Baghdad had earned him the nickname "Jacques Iraq" (Chirac), agreed to sell Saddam several nuclear reactors that would be capable of turning uranium into weapons grade plutonium. France was the only Western nation not to challenge the laughable claim by Iraq- a nation sitting on a sea of oil - that it needed nuclear reactors to produce electricity. Not even Saddam pretended that was true.
"In fact, when the $3 billion deal was inked in late 1975- after Saddam and Chirac had visited each other in their respective capitals- the Iraqi dictator told a Lebanese magazine: "The agreement with France is the first concrete step toward production of the Arab atomic bomb." The Franco-Iraqi Nuclear Co-operation Treaty was bad for Jews in more ways than one. The agreement stipulated that "all persons of Jewish race" be excluded from the deal, both in Iraq and France. Paris had no compunction about signing an obviously anti-Semitic treaty, because in addition to the nuclear reactors France was given cotracts to build massive public works projects in Iraq, includung a new airport and subway."

All I can say is, WTF? I just can't believe it.

Have a great, beautiful week! Hopefully, I will next be able to show more progress on the FBS!