Meet George W!
He's here, he's here!!! Today I got my bun, and he is now named George W!

we picked him up today from the wonderful Elaina's Avillion Farm. She raises shetland sheep, angora goats, angora rabbits (french and German) as well as chickens, and she even has a peacock! I was so excited, I forgot to take very many pictures. I did remember to take a pic of the angora goats though.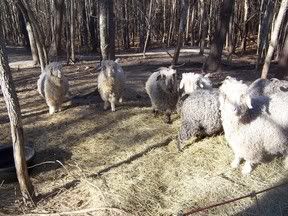 George is so friendly. He just lets you pick him up, snuggle and love him. He is so wonderfully soft and he has the cutest face! He is due for his shearing, so we are going to take him to rabbit club, and Melinda is going to help me shear him. I don't think he will be much trouble because he is so sweet.
So, while we were there, we got to see ALL of Elaina's rabbits. She had about 30 rabbits, french angora, german angora, and German hybrids. We actually talked to her about saving another buck, this one french, when she is done breeding him, which will be in a month or two. And, speaking of breeding, guess what George did before we left? Yup, she wanted to get one last litter out of him, so buddy got a little lesson on breeding rabbits! Did you know, you can tell when the male has been successful because he falls off the female! I did not know that.

George is so fluffy, but I was still a little nervous about putting him outside in his hutch. He has a great big bed of pine shavings to snuggle in. THey will all stick in his coat I am sure, but I want him to be warm!! I have already been outside once to check on him. Just to be sure he is OK.

So, since we had a bit of a drive, I got in some car knitting. I decided to make myself a pair of fingerless mitts before I make my son and his friend their second pair. I started out thinking I would reduce my stash, but I ended up making my mitt longer and now I need to buy a second skein to finish the second mitt. It will just be a little break from my self imposed yarn diet, as was the skein of HOT PINK wool ease chunky my son and his buddy requested for their mitts. Yes, they have both admitted that they like hot pink. But if a stranger asked, buddy would tell them his favorite color is orange!

This is another pic of George with Buddy. He just loves this rabbit! He is actually the one who wanted the french angora. His name is francois, and I think he will keep that name. Until then, I am sure buddy will get his fill of bunny love with George!