what do I do first?
Ha, that's what I think when I have spare time to knit. Do I do the FBS, slow because I have to concentrate; or should I work on the easy afghan? What about the re-KAL to make something out of my felted-on-accident poncho?
Well, if you are like me, you just don't decide and you juggle all three. I just don't want to ignore anything, which I am sure is not the best way to work!

Amanda helped me figure out what I was doing wrong. So, here is the FBS yesterday morning:





Yes, a pile of yarn. What you don't see is the work I did and then frogged. But Amanda cleared up my YO problem and here is where I am this morning: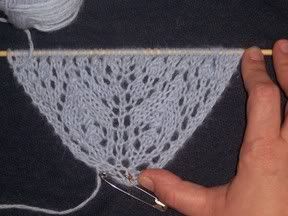 This is through row 20 of the first chart.

Next, I decided to do something with the poncho that my DH felted. One of the women at our knitting group suggested a bag, and since I couldn't think of anything else to do with it, here is what I have done so far: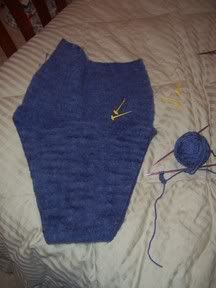 I wanted it to be wider at the top. I think I would like the flap to be assymetrical. I'll put a big button on it (probably silver) and I have to make an I-cord strap. Better than what I was going to do with it, which was toss it.

A little while back, my not so secret SP3 had a contest on her blog and I won! I rec'd the package a few days ago (Thanks so much, Chelsea!) but I didn't get a chance to blog. Look at what she sent: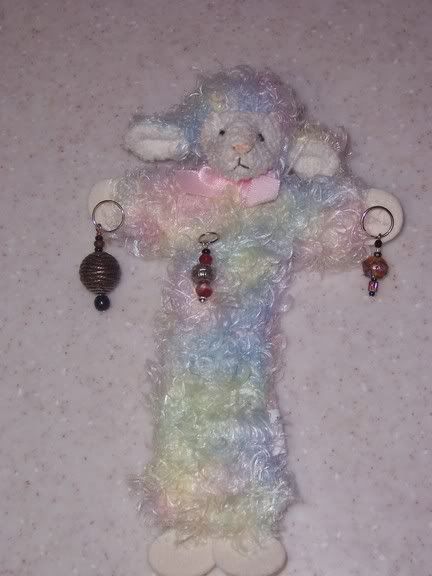 Isn't this little guy the cutest? He is so curly! I think my older son may kidnap him! Also, Chelsea made me my very own stitch markers! My son noticed that they are small, medium, and large. I think they are beautiful. And last, but certainly not least, look at what she sent the boys: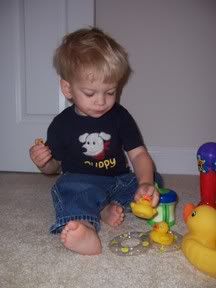 A whole family of rubber ducks! The little guys even have floating rings! Jacob loves to play with these guys and *yell* quack!quack!

So, with all these projects, you would think I would have enough to do, right? No, not me. I looked up Deb to see what I could send her as a thank you for playing postmistress for Wendy and I, and saw that she made felted soap. I tried it out. My first results were not so stellar. here they are: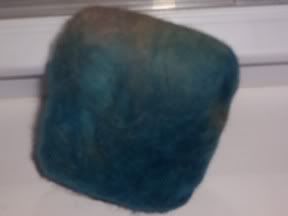 But, I bought 4 bard of Ivory last night and I am going to try again. I want to make a bar for my meetup organizer's daughter, because she is away at college and very homesick!

OK, enough blogging. I have work to do!!