I am in love with Marilyn!
Here she is in her fixed up glory!


I may actually take out the bound off edge of the neck and make it a wee bit longer. But even now, I LOVE her. I felt so great to be able to say "I made it" when she made her debut at work Tuesday! She is just a wee bit itchy (the mohair in my yarn) but I absolutely loved wearing her. And she is WARM. So I won't get to wear her much longer this year. But that's OK!!


The Geste is making great progress. Here is the beginning of the front: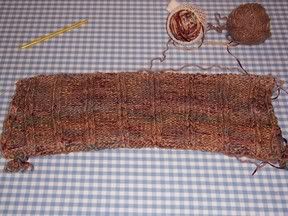 See that little "sock" over the ribbon yarn? It is so slippery I didn't want my ball to unravel. So I put some stockinette over it, it's the kind that you can use to put bandages on joints like a scraped knee. It works perfectly!


Next up after Gesta will be my cardi from Jaeger (see previous posts about it). I am really looking forward to making this one. It has a shawl collar and some cables, as well as buttonholes, so it will be a learning experience for me. I also need to work on my FBS. I purposely took a break from that one. I just got tired of knitting the same rows and ripping them. I figured a break would give me a fresh look at it.


Speaking of future projects, did everyone get their Interweave Knits? I am in love with the vintage cardigan and I will probably try to make that too. It is SO pretty.


OK, just a shortie little post today, I have some vegetable chowder to make for tonight's dinner (recipe given to me by the wonderful Knitster Mellissa!) That girl can cook!