I don't have time for the nervous breakdown I deserve
Recognize that quote? It's Julia Roberts in Something to Talk About. I always loved that line!

Just in time for the end of February, and for Alison's fix-it February, I present to you, my dear reader: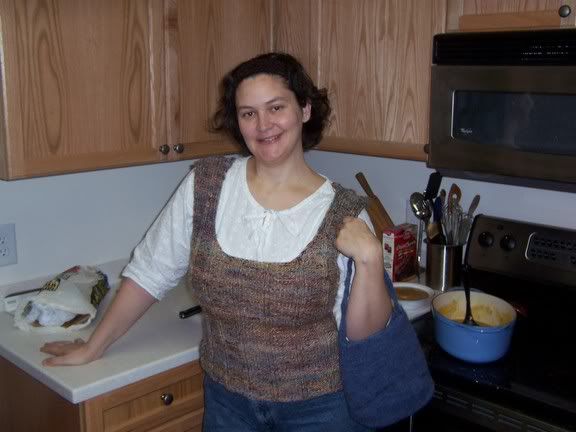 This is another knit to love! I am going to try to put a single crochet edge on the neckline and armholes. I am going to ask my friend Elizabeth to help me do this. She has helped me to try to learn crochet, and even gave me that learn to crochet book for Valentine's. But I want help on hand, I don't want to ruin my loverly vest!!!

Oh, did you happen to notice the bag I am holding? Why, yes, it is a Sophie! I made her up in no time at all!! This is a beautiful bag and one that I am sure I will make again! Here is a pic of her pre-felting.


In the last few days, I have also finished two hats. The first is NOT a good hat. It started out as a hat for a friend. I think it looks horrible even on a cutie babe!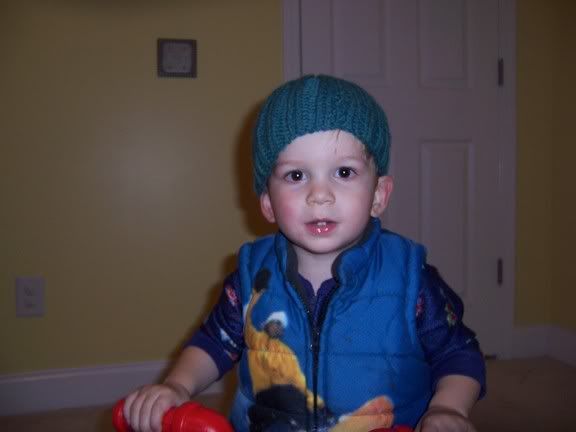 I did much better with the second one. THis is a LATE Christmas present for my friend Aaron. He will be going to med School in PA next year so this should help keep him warm!


Not much else going on here in my knitting basket. I have been so stressed lately, and knitting=stress reduction, which is why so much has gotten done. But now I think I will try to check out FBS again and see if I can get her to behave for me. SOMEone should behave, right?

Have a great day and check out the new Magknits!