A (sort-of) finished Simply Marilyn
OK, so it is technically finished. Here is simply Marilyn, in all her finished glory: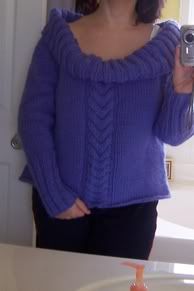 So, this is why she is sort-of finished- I don't like the neck. Although you do decrease after you pick up stitches, the neckline is just way too wide for me. I am going to rip back the neck and add another round of decreases. I think I am also going to shorten the collar, it is just too big for me, even when folded over, which is how I will wear it all the time. So, I guess this is another one for Alison's Fix-it February!

I think I could also enter the car into the february fix it. 2 weeks ago, I spent $1,200 dollars because the turbo on it blew. This weekend, family was on the way home from my son's basketball game, and the car "blew up" again. GRR! I bought a Saab because Daddy has driven a couple of them over 200,000 miles, with no major problems. I, on the other hand, am starting to feel like Job.

So, for the fix it, I was also supposed to fix Klaralund. Well, after browsing the book, I decided I wanted this instead:


I started knitting her up, with two strands of yarn- the yarn from Klara, and a ribbon yarn from Fiesta Yarns I had originally intended on making a shawl with. After trying to knit that ribbon by itself, I gave up because it was too slippery. Well, when knitting with the ribbon and silk garden together, they are a joy to work with, and they look AWESOME together! I think this is going to end up being my fave finished product ever! I have already finished the back. Here she is: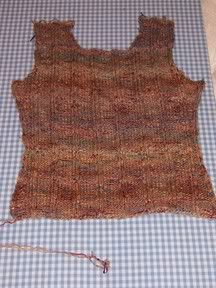 This is a closeup so you can see how beautiful the yarns look together: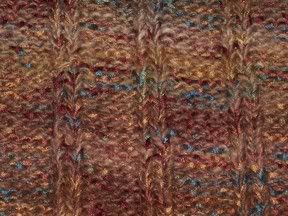 I am just so thrilled how this is working up. I am going to sew a white blouse, hopefully with a shawl collar, and I am hoping to find a nice blue batik fabric to make a matching skirt. That will then be my Easter outfit. I LOVE Easter, it is my favorite holiday. It will be nice to have something special to wear.

Last week we had the knit night at my house, since our "leader" and usual hostess Nancy was off to NY to do some wheeling and dealing in the art world. We had a great time. My mom was visiting, so she got to join us, and a new member, Rita came. Then there were the regulars, Melissa, Stephanie, and Brooke. I LOVE these girls!! Stephanie is always so helpful and entertaining; this time she was helping Melissa cast on/ figure out gauge/etc, for her very first sweater!! She taught Melissa a nice knitted cast on so that the sweater will have a nice edge. Brooke worked on a scarf that is just plain knit/ purl, but becuase she is using two yarns, it looks cabled. It is so pretty!! Rita helped my mom remember how to cast on. And I sewed up Marilyn. We had a great time.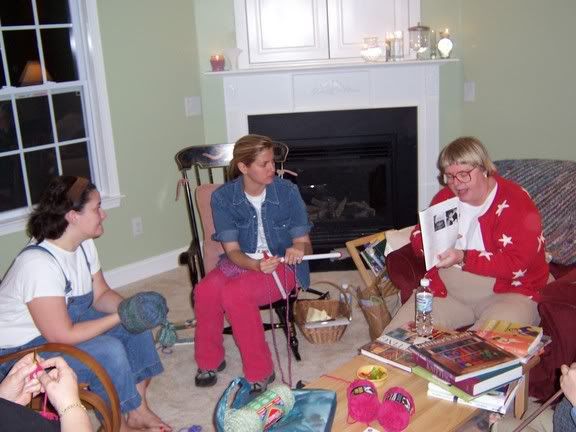 Another thing I did this past week: make my own blocking board! It was pretty easy.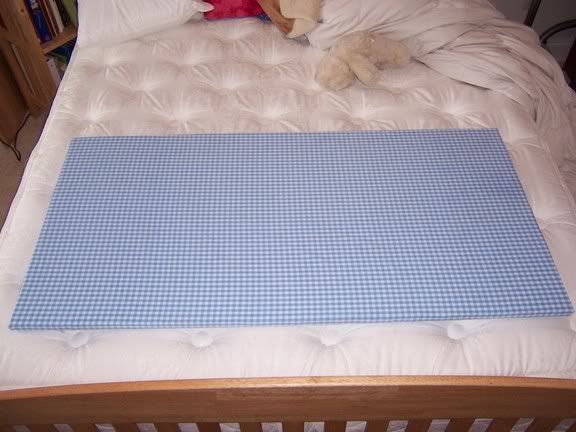 My husband's company sells insulation, and so he got me a 1" thick piece of styrofoam (2' x 4'). I just covered it with a piece of gingham, 1) to protect the styrofoam from my sons 2) to make it look better, but most importantly 3) I can use the lines in the gingham as guides for pinning straight! Now between my chibi and blocking board, I can feel SO professional!!