File under: Happy


Oh, what a few days it has been! You, my dear reader, already know that Easter is my fave holiday. Let me just TELL you about my days of wonderfulness! Since there is so much the post would go on forever, I have decided to make you a list!

Wonderful things from the past few days:
1) I had the weekend off and got to spend entire DAYS with my family.
2) Mama brought the boys into the children's room at church so I got to listen to the entire Easter mass with minimal interruption (except from my sister!)
3) Buddy, my sister, and I watched part of Jesus of Nazareth Saturday night until everyone was just about asleep (this is one of my all-time favorite movies!)
4) I got to go to Elaina's, and we got our buns! Buddy's is Johnny, a French angora, and mine is Madchen (pronounced maid-chen) a small German angora hybrid.
5) We saw day-old lambs with their mama.
6) Mama made a praline French toast casserole that was awesome.
7) I got to spend hours in Great Yarns while hubby got his new truck. I had a GREAT time.
8) I knit my first whole sock, and it wasn't that hard!
9) I made one of Kate Gilbert's bunnies, and Baba loves it!
10) We saw my FIL and his wife and had a great visit, as well as a great lunch! Hubby and I split a piece of Carnegie's cheesecake with fresh blueberries and it was the best cheesecake ever!
11) Baba had his first Easter basket and had lots of fun!

So, about Great Yarns.... I just had a wonderful time there. They have lots to look at, and look I did! I was told to stick to a budget, so I had to choose very carefully. So, I purchased: for more Kate Gilbert bunnies, 3 balls of Berocco Plush. These are to make a hot pink papa for buddy, and a light blue mama for baba. Next, some Twisted Sisters Jazz handpainted yarn. I love the Twisted Sister's Sock workbook, so when I saw this I *had* to buy it. I also bought ANOTHER set of size six DPNs so that I could start my socks right away!
Lastly, I bought the yarn to make Pippa. Mine will be light pink, with a dark blue edging. I had planned on getting the Calmer to make Elspeth, but they just didn't have enough of the pink I wanted. I will have to get that later. I really like Pippa, too, though, so this was a good choice for me.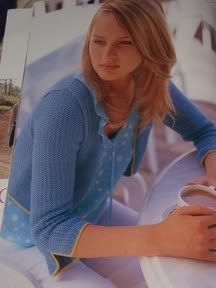 SO, what did my son tell me recently when we were watching Gilmore Girls? He wishes I would dress like Lorelai, because "she's a cool mom". Funny, I didn't think my son would want me dressing so *funky*! But, Lorelai wears a lot of shrugs and cardis and stuff, so hey, my knitting would work with that!!