Happy Easter!
First I want to wish everyone a very happy Easter. THis is my favorite holiday all year. I have the whole weekend off and I get to go to church, so I am way excited. Tommorrow I am going to Elaina's to pick up buddy's french angora for 4-h, and hopefully a companion of the german hybrid kind for me!
My husband has been so wonderfully supportive of me. I just can't believe I am so blessed to have him. He helped me get the cages all scrubbed and ready, and built me a little platform so the German bun won't be on the ground. This photo shows the home for the German. The French's cage will be on top of that, it has already been removed to use in rabbit transport!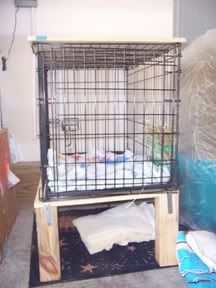 I finally took a look at my FBS and found where the extra stitch came in. Instead of frogging it back, I just knit it together with another stitch in the next row, and voila I am back on track again. I have decided to try to put this one to the forefront of my knitting right now. I screwed something up on one of my charts for Elsie and I am going to have to frog back several inches. That's not a big deal to me, but I hate to think of all the time I put into it. But I want to frog it so that it will look perfect, and anyways now I have the chart figured out so it should go easier.

I needed some mindless knitting to do for TV watching and knit night, so I started the heirloom bag in the new Rowan (37). I finished one side and started the gusset. I will need some help with the crocheting, but I have several friends who crochet so I am not too worried about that. I am knitting this bag from stash yarn, so it's being made with Lion Brands Microspun yarn, a microfiber. I like the feel of this yarn, but I think it would be even better in something lacy. It's just plain old boring stocking stitch for the bag.



This fabric is a reproduction from a 1943 print. I found it at Jo-ann's on their clearance rack for only $4. yd. I am going to make a wrap skirt similar to the one I made for Easter, but the shorter version. Unfortunately I can't show you the Easter skirt yet, as it is packed in the car and ready to go! I'll show you some Easter shots though.




HAPPY EASTER!!!!