Knitting my bit
After reading Margene post about the Dulaan project, I thought what a great idea, to knit up some hats for children who are not as fortunate as my own. I dug through my stash and found threee balls of "Luxury Cashmere" purchased at A.C. Moore which I thought would be great for hats. Now, the name is a little misleading, it is only 6%cashmere, but the yarn DOES feel wonderful. I have knit up two hats and have one on the sticks. One of the bears is modeling since Baba is down for his nap right now.


The bear is wearing Baba's Easter vest. I am really happy with the way it turned out; It looks great on Baba and he loves to wear it! Since it is made of nylon, it is machine washable, but it really feels nice.

I have worked on Elsie. We had our knitting night last night but I forgot to bring my camera. It was a real shame because we had 3 dogs there! Penny is Melissa's dog, and she has a new housemate who has two dachsunds. I was in heaven sitting on Melissa's couch, with Penny curled up between Stephanie and me, and then Linus on my lap, and daisy on the top of the couch behind my head. It was wonderful to be surrounded by the doggies and have lots of lovin!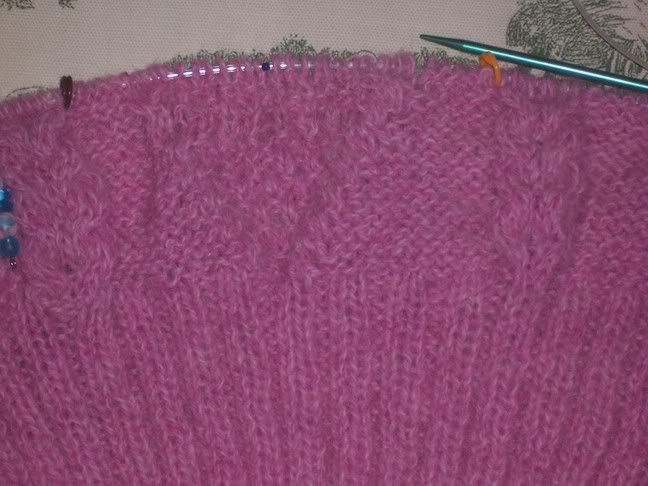 Anyways, about Elsie, she is coming along. Rather slowly lately, because I was just too sad to want to knit much. But last night I cast of for one of the fronts, so that I could just chat while knitting. Here is what I did:


Obviously, not much knitting going in! We were too busy eating, admiring Melissa's newly re-upholstered chair (she did a great job, with some help from Stephanie), trying to re-arrange her decorating on her..... We always have such a wonderful time. Our group is just a great bunch of ladies who all get along so well, and there is always fun and interesting conversation. Oh, and I am getting to know a lot about the historic Wilmington area, and who owns which house, and when they were built and for who, and so on. But the conversation goes something like this "you know, the white house down the street, gay Phil lives there...."
"no, not that gay phil, gay phil that lives with mike..."
"oh, THAT gay phil....."
Am I getting to know too much about their neighbors?
Oh, btw, the fabric under the progress on Elsie- I am going to make Stephanie a knitting bag. She came to knitting night with her stuff in a plastic "patient belongings bag." I told her that was skank and I was going to make her a knitting bag!
On the rabbit front: I talked with the vet, and Georgie had a rising E. Caniculi titer. E. Caniculi is a parasitic infection that may or may not have caused his demise. The only way to know for sure would be to do a necropsy, and I just couldn't bear the thought of that. You can read about the infection here. Anyways, I told you that when we got George there was a very nice French angora there that Buddy liked. We are going the day before Easter to pick him up from Elaina. I am going to see if she has any of George's relatives available. The rabbits will have new digs, in metal cages in my garage. I know that sounds bad but it isn't, really. I will be able to check on them very frequently, they will be protected from the wind, rain, and sun. I am going to attempt litter box training so they can be inside more. Georgie could only be inside while he was in my lap, which was actually a lot. I loved having him in after dinner and combing his hair. The french angora that Buddy is getting is beautiful, and he will be able to show him for 4-h since he is a purebred.

I have a little decorating to do. We let buddy move from his upstairs bedroom down to the guest room, so I bought him a couple posters to hang on the wall (A chopper from West Coast Choppers, and one of Lindsay Lohan) so that the place will feel more like his own room. But now that he will be downstairs, I can move my craft table upstairs to his room, which will be the guest room. I am going to put my sewing machine up there, and I am so excited because I have a lot of projects that I have been putting off because I dreaded sewing in my closet! I can even set the table up to have the view of the pond while I sew. I am so excited about that! I will have to show you "my" room when I am done!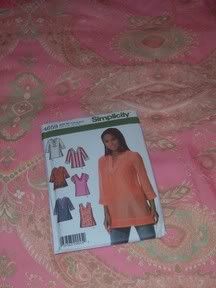 This is one of the projects I am excited about getting done- a sheer blouse to wear over a cami. I think it will look so chic!!

Oh- one last thing- are you having trouble reading my text? It shows black to me but I have been told it is blue. Is it readable?