Mama Mia!!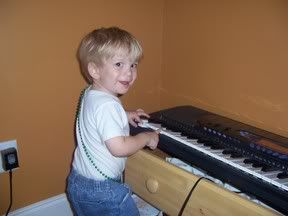 OK, it has been crazy around here the past week. I hate craziness. I like calm and quiet. That, it has not been.

Let's see: the good:

1) I got a package from Sicily!!! Wendy sent me the most AMAZING yarn stash! There is "a whole animal's worth" of a great beige yarn (as my friend Elizabeth said). It is enough to make a cardi or pullover. I am still deciding which to make. This yarn just has the greatest texture to it!
Next, 2 skeins of Grignasco soft kid in beige. What a nice soft yarn this is. Maybe good for a fuzzy collar on cardi? HMMM....
Then there was three skeins of a beautiful dark blue lambswool angora. It is not quite navy and feels great. This need to be made into something that I will wear right against my skin!! Wendy also sent a package of beads which are not shown. They will make pretty stitch markers, just trust me on that one. I put them somewhere baba couldn't get them. Unfortunately a lot of times my "safe" spots are even safe for me because I can't remember where they are!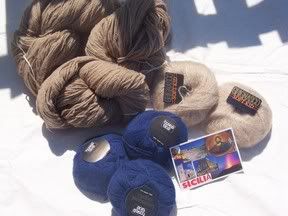 2) I arranged a swap with Chelsea, my former SP3! She had gotten the Rowan 37 and did not like it. I wanted to get it, so I asked if she would like some handmade cards and stationery to swap. She said yes, and I rec'd the Rowan book already! There are some beautiful things in this one- I want to make a lot of them! I have made Chelsea a bunch of cards, I am sending them out today or if I can get hubbie to send via UPS tommorrow, so they can get there quicker. I didn't do the stationery yet, because I want to make a few different designs and let her pick one. It is fun making stationery for another person! Oh, I don't actually make the paper, I just do the designs. You'd be surprised how much you can do, though, with some stamps and ink, fibers and markers.....

3) Since buddy moved downstairs, I now have a sewing room! His twin bed is still in there, and it makes a perfect place to put my blocking board, and gives me a place to lay out pattern pieces. Right now I am working on my skirt and blouse for Easter. I found Amy Butler fabrics and patterns thanks to Brynne and SWIM. I am in love! A friend from work really likes the designs too, and I am going to make her one of the handbags. She likes the Chelsea, and I like the Madison.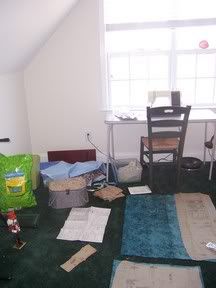 Today I downloaded patterns for the first time- what fun! I ordered the plain knit bucket hat from Bonne Marie Burns, and the Bunny! from Kate Gilbert. What fun it was to order patterns from a designer, knowing all of the money goes directly to them! I thought the bucket hat in child's size would be great for spring in a cotton. And I had to order the bunnies once I saw them! I think Kate Gilbert is an awesome designer, and I love her sense of color.

There are signs of spring popping up. Today it is about 70 degrees and sunny. I love warm sunny weather, but I don't actually consider it warm until we break 80 degrees. But we are getting there! My pear tree is blooming, and so are my lenten roses. I am going to get the soil and assorted amendments to plant my beautiful valentine's roses this week. I am so excited that it is getting nicer out!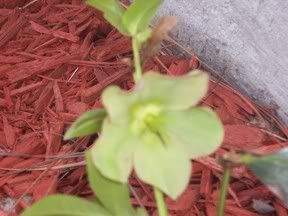 I also had fun yesterday, while at work, we had a little slow time between emergent/urgent surgeries, so I taught my friend RUSS how to knit!! He was so excited, he is making a garter stitch scarf to start out with. I gave him big wool and big needles so that it would be a good "quick" project. Let him get some instant gratification, so he'll be hooked. He was so stoked when he had knit about 4 rows and could see progress!

Click this link for a funny bunny Easter Greeting:
http://www.grayace.com/dex/bunny.html