Whole lotta nothin goin on!
Well, I set out today to break out some new springy digs for my blog. I thought I was doing everything right- I read blogger knowledge, printed out my color charts, and there I went. Put in a million different colors. Every single time- nothing. GRRR!!!

We had knitting night last night. No pics because I rushed home to care for George. He's sick :( I had a long talk with my breeder, and we are pretty sure he does not have wool block. I have been hand feeding and watering him since yesterday afternoon. He was very weak but seems to have more pep now. Although he is still definitely not himself. Please, if you are the praying kind, pray for him to get well soon! He is living inside now, and will be until it gets warm out. Which hopefully will be soon, I can't stand much more of winter!

While sitting by Georgie's side, I did manage to get a little knitting done. I started Elsie, and I decided to add 1" to her ribbing, to fit me a little more comfortably. I finished the ribbing for the back this AM, and can start on the cabling and moss stitch (seed stitch). I love moss stitch and I love cabling. Oh, by the way, I used a new cast on technique, too! I have only used long-tail cast on so far, but yesterday I broke out one of my reference books and used a knitted cast on. I like it!


I am also going to be making a vest for Baba to wear to church on Easter. I already told you how important Easter is to me- I want him to wear something special! This is another stash busting project, I bought the yarn for this about 6 months ago. It is nylon but it feels great- kinda suede-y. And should be very washable! I can't show you the pattern because I am sort of making it up from the "style your own kid's knits" book.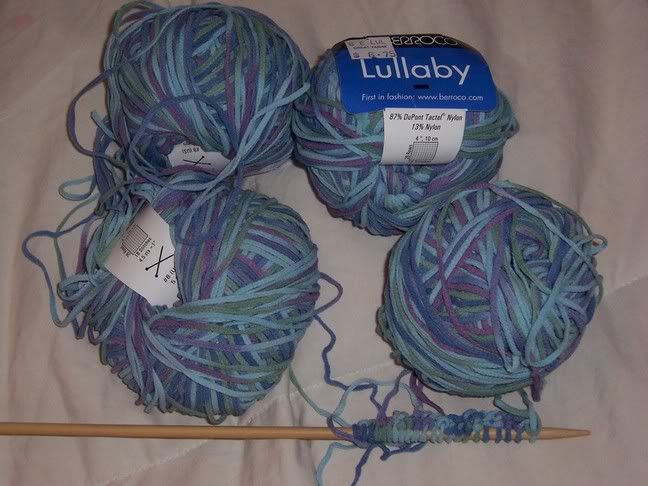 I also decided to get *serious* about the flower basket shawl. I broke it out yesterday and found there's a mistake in it. I need to pin it up to my nice blocking board and look it over stitch by stitch to find out where I added one! But I think I will be able to do that, with these great $1 magnifying glasses I got at Tar-get!



Here is a pic of Baba wearing the handed-down lederhosen. His daddy is swiss, so when we had Buddy, we got these as a gift. They will be cherished forever! This was the first time baba wore them, he liked the little bell.


He may be wearing them for a wedding- my little sister is going to get married. I am not jumping for joy. But hopefully Goober (her boyfriend) will straighten out (he has a habit of stiffing her & being untruthful).

Be sure to keep an eye on Elann. My friend got their newsletter with yarn samples and they are going to have some great yarns soon! Also, the Jaeger luxury tweed I am using to make elsie is on sale at JimmyBeans!